"VLOG geprüft" seal: printing templates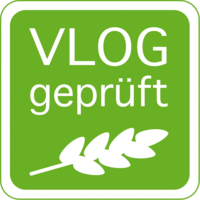 Print templates for the "VLOG geprüft" seal are available in various formats, see below. German ("VLOG geprüft") and English ("VLOG verified") versions of the seal are available. No other translations are permitted. The completed layout must be sent to layout(at)ohnegentechnik(dot)org for review and approval. Please direct any questions you may have regarding print templates to this e-mail address as well.
Please note: The "VLOG geprüft" seal must not be used until a licence agreement has been concluded with VLOG based on VLOG certification or certification under a standard recognised as equivalent.