VLOG survey: "Bundestag" parliamentary groups on the future of "Ohne Gentechnik"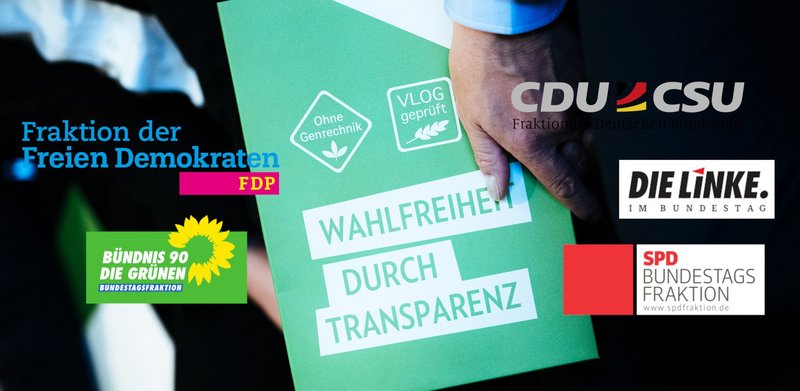 We are interested in what the various political plans in the area of "GM in agriculture and food" would actually mean for the "Ohne Gentechnik" economy if implemented.
SPD, Greens and the Left Party (Die Linke) oppose deregulation, CDU/CSU and FDP are in favor of it
Encouragingly, the Social Democrats (SPD), the Greens Party (Bündnis 90/Die Grünen) and the Left Party (Die Linke) clearly reject deregulation for new genetic engineering and intend to oppose it on the EU level. The CDU/CSU party union and the Liberals (FDP), on the other hand, are in favor. CDU/CSU has nevertheless stated that it wants to preserve freedom of choice, the precautionary principle, transparency and the coexistence of different forms of agriculture, and that it wants to consult with the associations concerned. However, it is questionable how both can work together, because for CDU/CSU, new genetic engineering "no longer has anything to do with the processes of the initial green genetic engineering."
Finally closing the labeling gap
SPD, Greens and the Left Party also want to close the existing labeling gap for animal products produced with genetically modified feed. So far, such foods do not have to be labeled as genetic engineering. This goal was already included in earlier coalition agreements, including those of CDU/CSU-led German governments, but has not been implemented to date. The CDU and FDP did not comment on this in our poll.
Poll provides comprehensive picture for election decision
"The responses show that the parties have very precise and, in some cases, very different plans in the area of genetic engineering in agriculture and food. For consumers and the 'Ohne Gentechnik' industry, a lot depends on the composition of the next German government. Anyone who cares about this issue can use the results of our survey to form a comprehensive picture for their own election decision," comments VLOG managing director Alexander Hissting.
The German food retail sector also emphasizes the importance of the issue. In 2020, it achieved around 12.6 billion euros in sales of "Ohne Gentechnik" products. For many voters, genetic engineering in agriculture and food is an important issue in the election, as a VLOG poll has shown.
Answers of the parliamentary groups to the VLOG survey on the future of "Ohne Gentechnik" (in German)
3:3 on genetic engineering in "Bundestag" election manifestos
"Bundestag" elections: Almost two-thirds oppose easing of genetic engineering rules
German Retailers Association BVLH calls for regulation and detection methods for new genetic engineering
Mehr More on this topic: What candidates and parliamentary groups say about agro-genetic engineering - Infodienst Gentechnik (in German)